"Risk Mapping of El Niño impacts on climate, seasonality and society using Köppens Geiger classification maps: A Guidebook."
A practical guide to assessing El Niño's ability to disturb the regional and national climates worldwide. A tool to increase our knowledge and support the efforts on Disaster Risk Reduction (DRR) and strategic preparedness plans on hydrometeorological risks related to El Niño.
Lino Naranjo
December 2019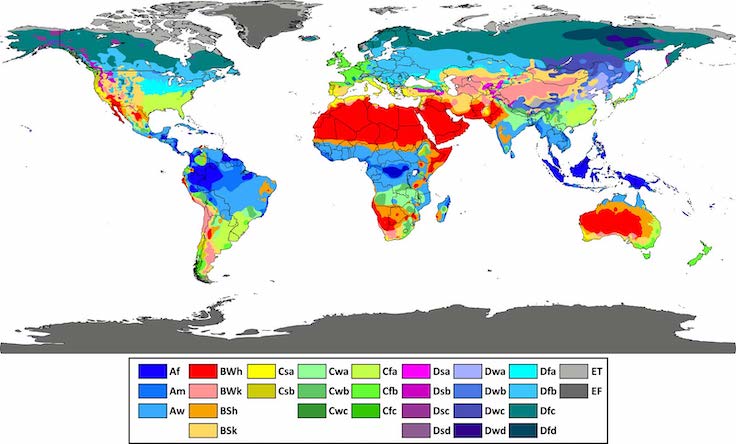 The results presented in this guide are part of a project, funding by USAID/Office of Foreign Disaster Assistance, named "El Niño-Ready Nations" that seeks to enhance the value of National Meteorological and Hydrological Services (NMHSs) to their societies.
"El Niño-Ready Nations" (ENRNs) is more than a name; it is a concept proposed by Dr. Michael Glantz from the Consortium of Capacity Building at the University of Colorado. In this sense, an "El Niño-Ready Nation" search for proactive actions focused on a multidisciplinary concept of El Niño that involves science, impacts, policy, economics, ethics & equity issues. The concept of El Niño ready nations (ENRN) is part of the broader concepts of "Weather Ready Nation".
One of the key tasks was the mapping of "El Niño Climate", a study of El Niño and its capacity to disturb the "normal" regional climate worldwide, to increase knowledge and support Disaster Risk Reduction (DRR) and strategic preparedness efforts for related hydro-meteorological hazards.
Information about El Niño Ready Nations can be found in http://elninoreadynations.com/enso-definition/
Files for download:
Guidebook for Mapping El Niño Risks
Powerpoint Presentation in Spanish at Mexican Meteorologic Service
If you have any questions or concerns please direct your inquiries to Lino Naranjo