The Third Adaptation Futures Conference took place in Fortaleza, Brazil, this month (May 12-16). Co-chaired by Dr. Jose A. Marengo (CCST INPE Brazil) and Dr. Saleemul Huq (IIED; PROVIA), the meeting focused on climate impacts and adaptation options across the world. The public, composed of students, scientists, decision-makers and development practitioners, had the opportunity to attend keynote speakers' presentations and to choose between multiple parallel sessions on broad themes related to climate change adaptation (CCA).
The objective of this annual event, held since 2012, was to:
– Showcase leading impacts and adaptation research from around the world;
– Explore the contribution of adaptation science to planning and policy making;
– Investigate how robust adaptation decision making can proceed in the face of uncertainty about climate change and its impacts;
– Showcase cutting-edge research focusing on themes of equity and risk, learning, capacity building, methodology, adaptation finance and investment, and ecosystem based adaptation approaches;
– Explore practical adaptation policies and approaches, and share strategies for decision making from the international to the local scale;
– Introduce and examine new tools and methodologies for adaptation finance tracking monitoring and evaluation.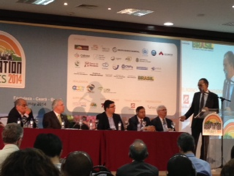 About the conference: some observations from my participation
It was quite a rich event, dense due to the large number of sessions scheduled each and every day; it was also very interesting, especially because most of the keynote speeches were produced by a mix of scientists and professors, as well as representatives of international organizations involved in CCA such as the World Bank, the UNFCCC and the Adaptation Fund. Really, the focus – perhaps the only preoccupation – was on CCA, its practices, funding possibilities, and new concepts. Well, after all, it was the title of the conference! Yet, such a focus on adaptation can lead to the overshadowing of the other important side of the "climate change" coin: mitigation (as a reduction of GHG emissions).
Mitigation, as a long-term approach to adaptation and as a significant and powerful tool to avoid a 4-degree warmer world (maybe higher) and its consequences, needs as much attention as adaptation. There is sufficient scientific evidence today, that many climate change impacts will not be avoided because of past and current CO2 emissions. Yet, reducing our current CO2 emissions is all the more important to avoid further damages to future generations, to all species and to ecosystems. This observation should not be forgotten, especially in developing regions, such as Africa. As reminded in one of the keynote speeches (by Prof. Mark New, Cape Town University), in emerging economies (such as South Africa and Brazil), investing in renewable energies is the only sustainable way to avoid further climate change impacts and damages, while, at the same time, responding to the needs of growing nations. Unfortunately, this aspect of climate change management was mentioned in too few presentations as the event largely focused on adaptation.
It appears that not many new ideas were introduced about CCA, although many sessions and presentations were very interesting for students, scholars as well as for practitioners interested in learning about successful concrete adaptation experiences. Some sessions presented practical results of research completed by scholars and scientists, or by development practitioners, while others focused on defining new concepts related to the notion of adaptation. Surprisingly, the notions of "resilience" or "resilient adaptation" were largely absent from most presentations and even discussions. Instead, other concepts were placed at the core of parallel sessions: for instance, the new idea of "Transformation" as a replacement for "Adaptation," was discussed during a session led by Lisa Schipper (Stockholm Environment Institute) and Jochen Hinkel. "Eco-system based adaptation" was the subject of another session.
After 5 intense days of lectures and presentations on larger issues, discussed in different sessions, related to a conflict of scales regarding the implementation of adaptation. CCA often tends to be perceived as something happening (an event) at the local level, for instance through pilot projects. Yet, adaptation is also a process and, as such, takes place at higher levels, i.e., national to international. If local experiences are valuable for our knowledge and for good practices, and if they provide direct impacts to the communities, adaptation as a process still needs to be scaled up, pushed at higher levels, to concretely influence international policies and strategies and, in turn, overcome some of the current financial, practical or conceptual barriers that can and do hinder the successful implementation of adaptation measures to the benefit of the communities that need them most.

[The next Adaptation Futures 2015, will be organized in The Netherlands, May 2015].